Long Term Client Federal Signal rolls-out Ingenious Police Car Display at IACP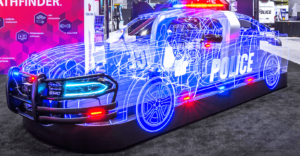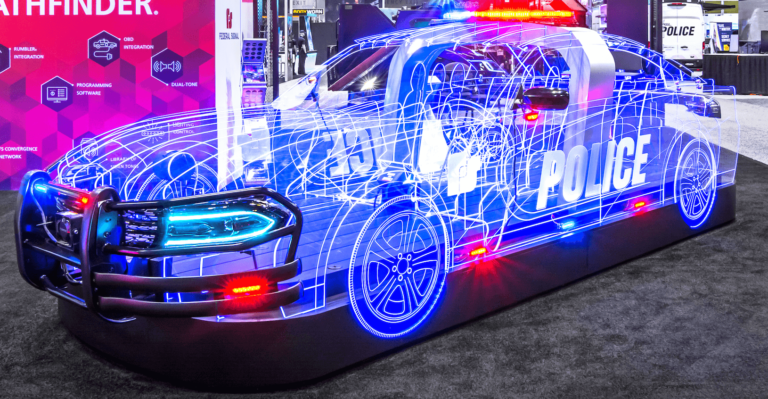 For this year's International Association of Chief of Police Exposition (IACP), Evo Exhibits built a dynamic and informational trade show exhibit helping Federal Signal set itself apart from everyone else.
Federal Signal Corporation is a multi-brand industrial creator of product groups including emergency vehicle lighting controllers and components. To date, Evo Exhibits has successfully completed nearly 100 projects with Federal Signal…managing projects for multiple business units and business owners from across the organization.
The IACP Trade Show Challenge
Emergency vehicles are extremely complex. But Federal Signal takes this challenge head on by creating lighting systems that have only 2-points of installation. This is significant – saving time and money for their customers. But how can they visually tell this story in the trade show environment? On their own, the lighting components look similar to their competitor's products. Installed in a vehicle, the innovation is hidden out of sight.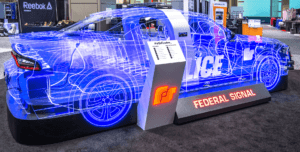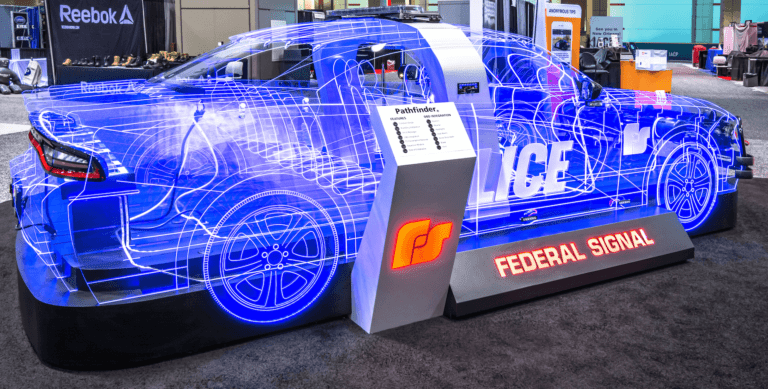 The Solution
Our in-house team of designers, engineers, graphics producers, fabricators, and installers, lead by Senior Project Manager Tina Allison and Senior Manager of Operations Aly Miller, created one of the most innovative displays in Evo's 10 year history: a full-sized Dodge Charger made from edge-lit, clear acrylic panels with Federal Signal's products installed just as if in a "real" squad car. This format allowed for a clear view of Federal Signal's competitive advantage, the quality of the products and simplicity of installation. The interaction between the various systems were highlighted with additional LED lighting elements.
Federal Signal Talks about the Trade Show Exhibit
Here is Blake Wilbor, Sr. Sales Manager at Federal Signal, talking about the display and the new Pathfinder Siren highlighted at the 2019 IACP Trade Show:
The Result
IACP 2019 just wrapped, and Federal Signal has already seen a marked increase in sales inquiries based on their presence at the show. The excitement that the car generated at the show was palpable. From the moment the car was being set-up, through the close of show, there was a substantial crowd around the display. Early on, we were forced to cordon off the display to create appropriate space around it. Evo Exhibits loves working with clients like this, helping them meet and exceed their trade show goals.
It goes without saying, but contact us today to see how we can help you stand out in a crowd and succeed at your upcoming tradeshow!