The International Manufacturing Technology Show (IMTS) is coming up fast – September 14-19, 2020. If you haven't already confirmed your booth rental, it's time to do that NOW. Custom trade show booth exhibit manufacturers like Evo Exhibits have been in the trade show game for years. If you're hoping to have one of the best trade show exhibits for IMTS, your best bet is to partner with an expert company. Evo Exhibits does more, however, than just sell and rent out booths. When you work with Evo, you will be guided from beginning to end, starting with our Discovery process, including a consultation from an exhibit designer, and ending with the dismantling of your booth on-site. Evo Exhibits makes sure your IMTS exhibiting experience goes as smoothly as possible.
The Discover Process
One of the great things about renting from Evo Exhibits is that you get to specify exactly what you want through an in-depth conversation, also known as the Discovery process. The information you provide will give our team a holistic understanding of your business strategy, budget, timelines, and pre-show and post-show needs. This is also where we begin brainstorming design options that best fit your needs.
Wide Range of Booth Sizes
Evo offers a wide variety of options for booths of all sizes. If you aren't completely sure about what to do with the space you have, a quick consult with our design team should help clear things up for you. We've designed many trade show exhibits for IMTS, so we know well what can and cannot be accomplished based on your booth size, brand's budget and messaging needs. The Evo design team will have your best interest in mind and through the Discover process, will be able to guide you through the entire process.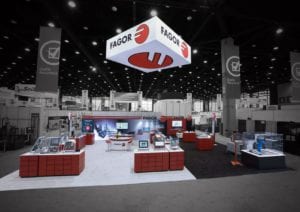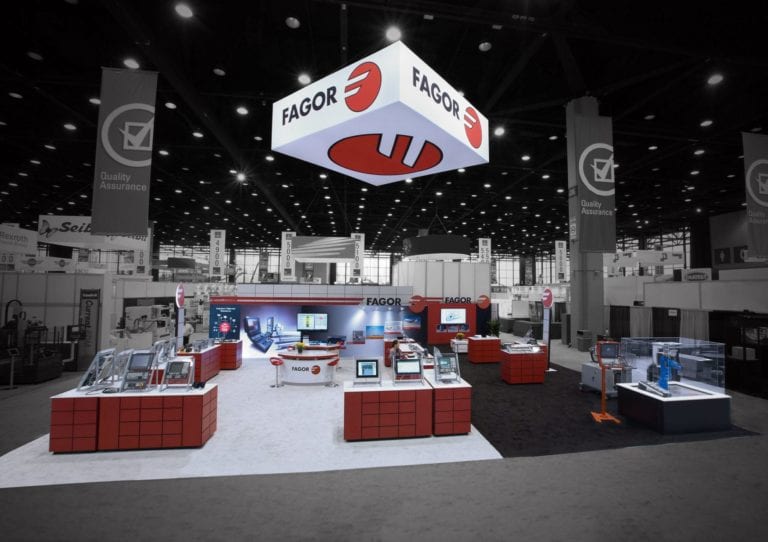 Huge Variety of Structures and Styles
You've reserved the booth space, now you get to think about the structure and style. Evo Exhibits has a huge variety of booth structures and styles on offer. Consider elements like kiosks, backlit graphics, and double decks. Our team is happy to assist in choosing the perfect style of booth to capture your company's message and to truly rise above the crowd at the next International Manufacturing Technology Show.
Complete Customization
Evo builds trade show booths from the ground up, so you can be assured that you are getting a totally unique exhibit. The process of designing your custom booth is extremely detailed, starting with an initial Discovery meeting and follow-up exhibit design ideation. That information is then taken by our expert designers, who turn your goals for the trade show and your company at large into a stunning trade show exhibit. The first draft will be presented to you and/or company reps where feedback will then be applied to create a final design. Once this final version is done, you will be presented with a product that reflects your short-term trade show goals, as well as your long-term company goals.
Option to Purchase or Rent
If you're unsure about whether to purchase or rent your booth, Evo can clear that up for you in a snap. If you don't want to take on the hassle and cost of storing your booth in between shows, are on a tight budget, or don't go to trade shows very often, then it might be more worth your while to rent your booth as opposed to purchasing it. Many trade show exhibits for IMTS will be rented, and if you're thinking about going big this year, renting may well be the best choice. On the other side of the coin, if you have a large capital budget for trade shows, attend not only IMTS, but several shows per year (more than 3), then buying a booth could be a great way to get the most bang for your buck. With a trade show exhibit purchase from Evo, you also have the option to either store and maintain the exhibit yourself, or utilize Evo's white glove service for exhibit storage and maintenance. Luckily, Evo offers both rental and purchase options to clients.
Watch Your Booth Come to Life
One unique feature of working with Evo is the opportunity to view your booth either through a web cam or in person before it's shipped. Ensure your booth is coming along exactly as expected by watching us build it! We understand the peace of mind that comes with this kind of in-depth look into our process and we're happy to keep our clients involved every step of the way.
A Dedicated Team
Once your trade show booth is staged, reviewed and shipped to show, a team of builders will install the whole thing on the show floor. Installation and dismantle are essential parts of any trade show experience that are often overlooked. Trust our expert team to safely put up and take down your booth!
A/V Elements Abound
Tech is all the rage these days. If you're showing at IMTS, chances are you're a tech-savvy company and will thus need some A/V equipment like audio components, tablets or monitors. Evo can provide all of that and more. Elements like video walls, interactive touch screens, and charging stations are exciting additions that we can make happen for you. Stand out at the up-coming International Manufacturing Technology Show by making technology a central aspect of your booth design.
Conclusion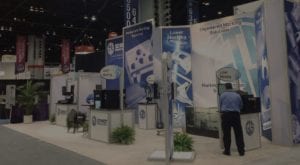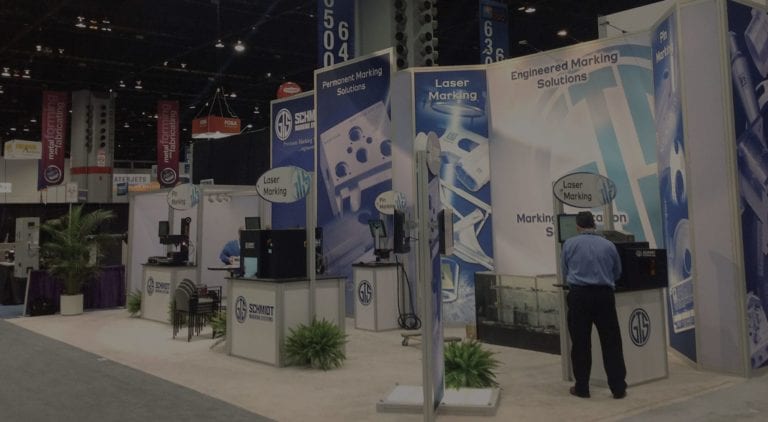 If you're looking for the best trade show exhibits for IMTS, your best bet is to partner with an experienced and professional trade show partner. At Evo Exhibits, we believe in engaging our clients every step of the way, from pre-show Discovery to post-show Connections. Contact us today to make your next trade show experience unforgettable!